Well, it happened.  My son asked for a birthday party with his friends.  He is turning 7 at the end of this month and so far he hasn't had a birthday party.  Don't feel too sorry for him yet.  We always celebrated as a family and would take him somewhere fun for the day or night.  However, it seems he has figured out that all of his friends are more fun than mom and dad.  He is an amazing little boy so we've decided to go for it – with as little stress and impact on the budget as possible.  Here are some ways to save money on your child's next birthday party.
Party Tip #1 – The Guest List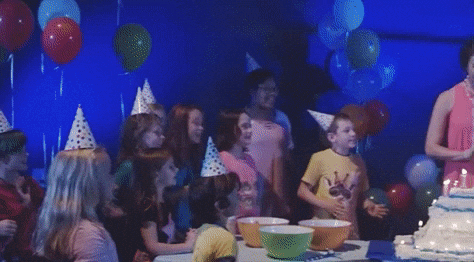 If you've read my wedding post you know how I feel about hosting large parties.   Summer birthdays are good and bad when it comes to the guest list.  If your child has a summer birthday you can keep the list very small by just inviting a handful of friends.  You can plan with those few people to make sure you get a day and time that works for the group.  This can work during the school year too – just keep it to a few kids and make it special by doing one activity they love.
This strategy was not helpful in our case since my son likes all of the kids in his class so much.  However, there is a good chance people will have other obligations and vacations. We told our son that it is possible the party will be small due to the time of year.  It also gave me an opportunity at one last push for a family getaway.  He still wants the party but now understands some of his friends may not be able to come.   You can always allow siblings to join if there is room for more at the event.  When you get the final guest count reach out to the vendor or plan some games that fit your crowd so the kids have fun regardless.
Party Tip #2 – The Food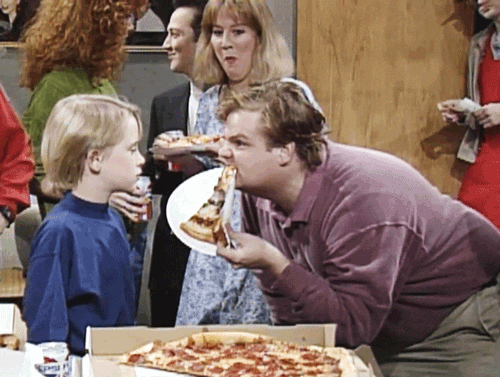 If you end up with a lot of guests feeding them can get pretty expensive.  There are a few ways to keep the costs down when it comes to food.  You could opt for a morning or mid afternoon birthday party.  This will limit the expectations for a full meal.  If you do decide to go for these times you can include on the invitation that cake will be served so people will know to feed the kids before (or after) the party.
When your party falls between 11-1 or after 5 pm you should be prepared to feed your guests.  Include the parents in this category too.  I'll admit having pizza at different birthday parties has opened my eyes to a few great places we've never tried.  If you are having the party somewhere take advantage of whatever is included in the cost (paper goods, drinks, etc.) so you don't duplicate something you already are paying for.
When the party is somewhere other than home be sure to ask the vendor if they have any discounts or deals with local restaurants.  It will save you money and you can be confident they will know when and where to deliver the food.
Keep the menu basic if you want to save money.  Again, I would suggest putting what you plan to serve right on the invitation.  That way if you are serving cheese pizza and one of your guests hates cheese pizza their parents will be able to stuff a sandwich in their bag before they head out.  Also, if your child has a favorite meal take them out for it on a different day.  The goal on party day is to have fun – not savor a culinary experience.  There is a small chance anyone wants to sit down for more than 10 minutes anyway.
Party Tip #3 – The Cake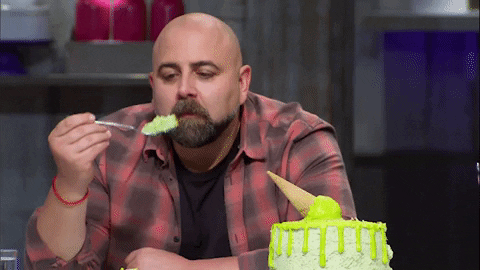 We watch a lot of Kid's Baking Championship at home so we appreciate a beautiful bake.  That said – this is one area of birthday parties that I think people could scale back.  I've seen some insta-worthy cakes lately that probably cost as much as your average wedding cake.  Let's be real – your child would also be happy with a basic birthday cake from the grocery store.  Ask what designs they can do if your child has a theme or would like something besides "Happy Birthday" on the cake.  You might be impressed what you can get at your local supermarket.
Trying to DIY this part of the party could land you in the "Pinterest fail" category fast.  Look for coupons or discounts, stay basic and outsource this part.
Every birthday cake I had as a kid was made by someone in my family.  I'm 39 and my mom is bringing me a cake with my grandmother's frosting later this week.  Go for it if you are having a small party.  A homemade sheet or layer cake could be inexpensive and delicious.  However, if you don't have the ingredients, bake-ware, or time to make enough cake for a big party it probably isn't worth the stress.
Party Tip #4 – Invitations and Goody Bags
Paying for either of these gets a hard pass from me!  There are plenty of electronic invitation options that will do more than tell your guests when and where.  Using a service like evite will notify your guests, track RSVP and send reminders out as the date approaches.  You don't have to worry about tracking down people or getting texts or calls from parents you may have never met.  It is free and with the cost of invitations and stamps it is a no-brainer.
As far as goody bags go a dad at a recent party said it best when he yelled "who wants some junk from the Dollar Store?".  Why this tradition still exists is mind boggling.  Parents hate them and I don't think the kids really enjoy the contents for much longer than the car ride home.  Unless this is included by the vendor I would suggest passing on this.  Sure someone may ask for their goody bag but I think they will get over it fast as you keep that $3-5 per kid back in your pocket.  The world could use less plastic waste anyway.
What's your favorite party tip?  If you have some to give me as we enter this new phase of parenting let me know in the comments!